New Hampshire Breweries: Lakes Region Craft Beer
New Hampshire breweries are a booming business. It seems like every other day someone is opening up a new brewpub or nanobrewery, hoping to live the dream. And craft beer drinkers drink it up, pardon the pun. They find themselves seeking authentic experiences that connect them to local flavors and help support local artisans.
Regions of New Hampshire
Great North Woods: Berlin, Whitefield, Jefferson, Pittsburg, Colebrook.
White Mountains: Lincoln, Conway, Waterville Valley, Woodstock, Campton, Gorham, Littleton
Lakes Region: Laconia, Meredith, Wolfeboro, Alton Bay, Rochester, Franklin, Plymouth
Dartmouth/Lake Sunapee Region: Lebanon, Hanover, Claremont, Newport, Wentworth
Monadnock Region: Keene, Jaffrey, Hillsborough, Greenfield, Peterborough
Merrimack Valley: Manchester, Nashua, Concord, Salem, Hudson
Seacoast: Portsmouth, Dover, Hampton, Exeter, Somersworth, Seabrook
NH Breweries in the Lakes Region
The Lakes Region is an area that centers around Lake Winnipesaukee and extends outward, encapsulating several towns that border the very towns that border the lake. From swimming and boating on the big lake in the summertime, to leaf peeping in the fall, downhill and cross country skiing in the winter, and hiking miles upon miles of trails in the spring, the Lakes Region boasts a rich, four-season way of life. So it should come as no surprise that the region's craft brewers brew a variety of seasonal beers that complement the time of year.
It should also come as no surprise that some of the very best New Hampshire breweries come from The Lakes Region.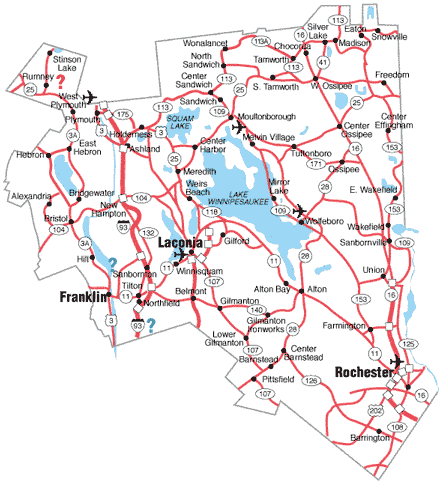 What are some places I might know?
From Rochester to Rumney, Tilton to Tamworth, the Lakes Region has much more to offer than just recreational water fun. There is Funspot in Laconia, dubbed the world's largest arcarde a decade ago. Castle in the Clouds in Moultonborough, a mountaintop estate that offers expansive, southern views of The Lakes Region (as well as Castle Springs Brewery). And Wolfeboro, long dubbed, "The Oldest Summer Resort in America". Each of these places represent the multi-faceted nature of the Lakes Region and the types of activities and fun that can be had.
Perhaps best of all is Gunstock, a serviceable downhill ski mountain that boasts not only 55 trails, but night skiing on almost half of them. If you were to drive a line through the vertical and horizontal middle of a Lakes Region map, Gunstock would very nearly occupy the center point.
So tell me about the New Hampshire Breweries in The Lakes Region, what pins can I put in my NH Brewery Map?
The Lakes Region is currently home to 12 breweries (we counted mead, but not wine), here they are:
1766 Brewing Company
Big Water Brewery
Canterbury Aleworks
Sap House Meadery
Woodman's Brewery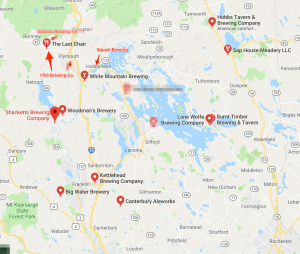 Having visited six of the New Hampshire breweries, we can honestly say that the Lakes Region is in better beer shape than ever.
Though I do miss the days of watching electric blue Vuarnet tank top wearing frat boys driving their Dad's Formula cigarette boat with twin 500s to the Braun Bay sandbar to suck down a few cold Michelob's.
This ain't your father's beer, Bro!
Nah, the Lakes Region, and all New Hampshire breweries for that matter, are producing fresh, high quality beer with increasing degrees of locally sourced ingredients. Better yet, these New Hampshire breweries are family affairs.
From the husband and wife teams found at Burnt Timber and Lone Wolfe, to the solo brewer approach of Squam Brewing (with branding/artwork help from family), you aren't just buying craft beer, you are helping a Lakes Region community grow and flourish.
Our experience(s) at Lakes Region Breweries
We've had the fortune of visiting many New Hampshire breweries. From the Seacoast's Portsmouth Brewery and Earth Eagle Brewings, to the White Mountains' Woodstock Inn Brewery, we've found the Granite State to be action-packed with delicious craft beer.
Here are some of our thoughts on the Lakes Region breweries that we have visited:
Lakes Region Brewery Tour recap
It has been a great adventure. Getting to experience local craft brewers build a thriving business without the aid and benefit of a major city is exciting to watch. Getting to drink their beer is even better.
Speaking of the beer, here is the Lakes Region Beer Flight, one beer from each of the Lakes Region breweries. As I visit more, this could change. But for now, here they are.
Fizz's Lakes Region Beer Flight
Lone Wolfe Brewing Company - Dipp'ah - double IPA
Squam Brewing - Mountain View Red - "Irish style" red ale
Kettlehead Brewing Company - Pineapple Funk - sour
Burnt Timber Brewing & Tavern - Barley & Bees - blackberry braggot
White Mountain Brewing - Redneck Red - ale
Shacketts Brewing Company - Hornet Cove Wheat - wheat ale
Hobbs Tavern - Lil' Gray - grisette
Enjoy! And support all New Hampshire Breweries!
---
Lakes Region Breweries left to visit
And to all the rest of you New Hampshire Breweries … don't worry, you're on the list.
Just let us know when your Happy Hour starts!
1766 Brewing Company 5 route 25, 03264 Plymouth, NH 03264
(603) 254-7320
Big Water Brewery 24 Robie Road, Salisbury, NH 03268 (603) 648-6068
Canterbury Aleworks 305 Baptist Hill Road, Canterbury, NH 03224 canterburyaleworks@gmail.com
Sap House Meadery 6 Folsom Road Center Ossipee, NH 03814 (603) 539-1672
Woodman's Brewery 195 Peaked Hill Road Bristol, New Hampshire 03222 (603) 744-3669
---
After The Lakes Region, we will begin tackling New Hampshire breweries in The White Mountains.
Why is skiing important to craft beer?
Ask yourself this, what is the perfect way to end a day of skiing?
Answer: enjoying a cold beer.
Otherwise known as Apres Ski, drinking beer has been a post-ski staple for as long as there has been commercial downhill skiing.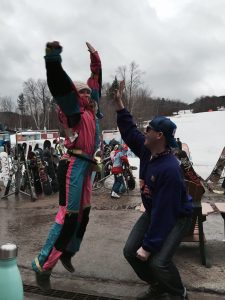 The problem was that back in the day, everyone only drank ice cold cruisers (Bud Heavy). You didn't have your Smuttynoses (sad that it's closing), or your Woodstock Frosty Goggles (a Pants favorite), you just had barley infused vodka (Miller, FTW!!).
And no doubt, people drank Big Beer by the ocean, because that's all you had. Luckily, the craft beer movement is helping change that. Skiing is about community (and rich, white elitism, but we are passing on that one right now), and what better community exists than the community of New Hampshire breweries who are bringing better beer to not only the state, but your local hill as well.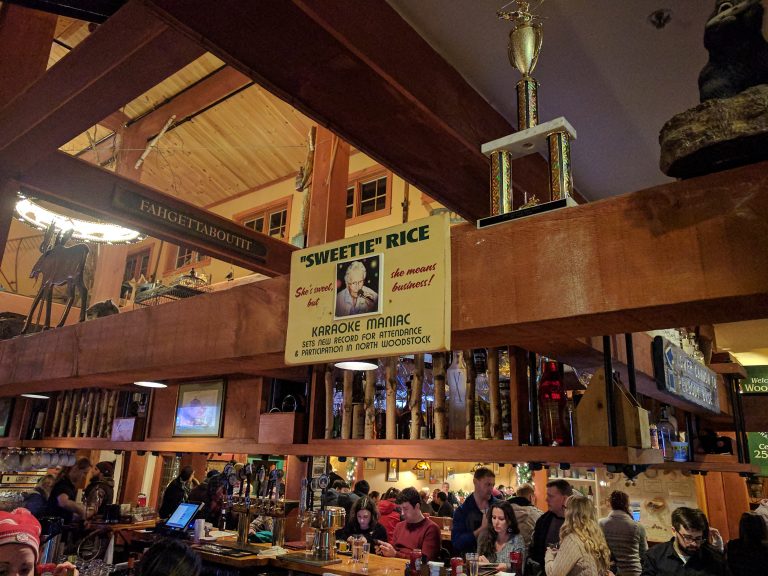 Don't worry Woodstock, we'd never forget you. You're always there for us on 80s Day!

Woodstock Inn Brewery
135 Main Street
North Woodstock, NH 03262
(603) 745-3951

---
A list of New Hampshire Breweries
Below is a near comprehensive list of every brewery, microbrewery, nanobrewery in the Granite State. If you see that we are missing something, let us know.
| Brewery | Location |
| --- | --- |
| 603 Brewery | Londonderry, NH |
| 1766 Brewing Company | Plymouth, NH |
| 7th Settlement Brewing | Dover, NH |
| Able Ebenezer Brewing | Merrimack, NH |
| Backyard Brewery | Manchester, NH |
| Beara Brewing Co. | Portsmouth, NH |
| Belgian Mare Brewery | Alstead, NH |
| Big Water Brewery | Salisbury, NH |
| Blasty Bough Brewing Company | Epsom, NH |
| Burnt Timber Brewing | Wolfeboro, NH |
| Concord Craft Brewing Company | Concord, NH |
| Deciduous Brewing | Newmarket, NH |
| Earth Eagle Brewings | Portsmouth, NH |
| Elm City Brewing | Keene, NH |
| Flying Goose Brew Pub | New London, NH |
| Garrison City Beerworks | Dover, NH |
| Granite Roots Brewing | Troy, NH |
| Great North Aleworks | Manchester, NH |
| Great Rhythm Brewing | Portsmouth, NH |
| Henniker Brewing | Henniker, NH |
| Hobbs Tavern & Brewing Co. | West Ossipee, NH |
| Kelsen Brewing Company | Derry, NH |
| Kettlehead Brewing Company | Tilton, NH |
| Liars' Bench Beer Company | Portsmouth, NH |
| Martha's Exchange Brewing Company | Nashua, NH |
| Moat Mountain Brewing | North Conway, NH |
| Neighborhood Beer Company | Exeter, NH |
| Oddball Brewing | Pembroke, NH |
| Old Man Brewery | Gilsum, NH |
| One Love Brewery | Lincoln, NH |
| Out Haus Ales | Northwood, NH |
| Portsmouth Brewery | Portsmouth, NH |
| Primary Brewing | Portsmouth, NH |
| Schilling Beer Company | Littleton, NH |
| Seven Barrel Brewery | Lebanon, NH |
| Shackett's Brewing Company | Bristol, NH |
| Smuttynose Brewing | Portsmouth, NH |
| Squam Brewing | Holderness, NH |
| Stark Brewing Company | Manchester, NH |
| Stone Cow Brewing | Barre, NH |
| Stoneface Brewing | Newington, NH |
| Swift Current Brewing Co. | Manchester, NH |
| The Lone Wolfe Brewing Company | Wolfeboro, NH |
| Throwback Brewery | North Hampton, NH |
| Tuckerman Brewing | Conway, NH |
| White Birch Brewing | Hooksett, NH |
| White Mountain Brewing | Ashland, NH |
| Woodman's Brewery | Bristol, NH |
| Woodstock Inn Brewery | North Woodstock, NH |