80s Day: Loon Mountain throws the Best Après-Ski Party slope-side next to the Bunyan Room
Bitchin' tunes, blinding neon ski outfits, and Bud Heavy, what could be better than 80s day at Loon Mountain?
Crankin' some bitchin' metal to get ready for 80's Day 2019 in a couple of months. Pants, Noles, Frank, and the rest of the gang are making the trip. Party with us!
Date: Saturday, April 6, 2019
2019 80s Day
Are you planning on going to 80s Day in 2019?
80s outfits, 80s tunes, and 80s characters at an 80s ski lodge
Add to the (apres ski) party the best 80s cover band in New England, Fast Times Boston, toss in a few hundred pairs of Ray Ban Aviators (with Croakies, of course), and witness Hulkamania running wild, brother! and what you end up with is the purest White Mountain entertainment - not an 80s euphemism for illegal narcotics.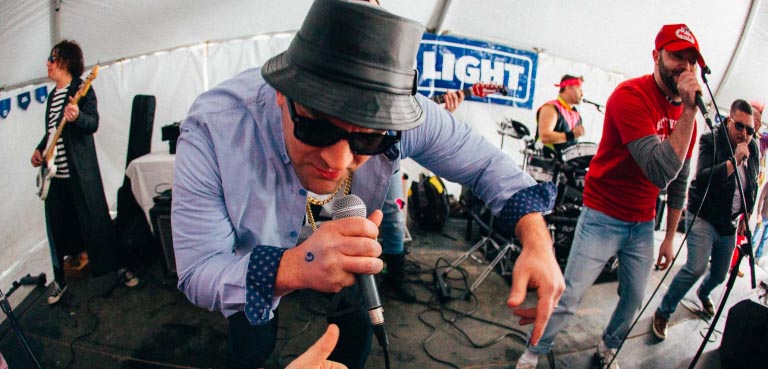 Our annual 80s day recaps
---
80s Day highlights
No Sleep Till Brooklyn
80s Day band, Fast Times Boston invites Noles (Ad Rock), Pants (MCA), and Fizz (Mike D) to rock No Sleep Till Brooklyn with them. People then ask us if we are the real Beastie Boys.
Sad, considering MCA has passed away.
No Sleep Till Brooklyn @ 2018 80s Day 2018 video - it works
Hulk Hogan owned the 2015 80s Day
The Hulkster must have leg dropped at least a dozen ice cold cruisers (Bud Heavy), maybe two, after winning the 80s Day costume contest. Guy was a legend.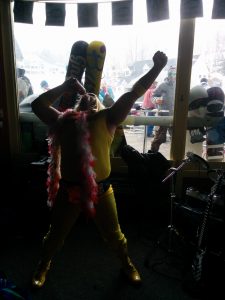 ---
What was Loon Mountain like in the 80s?
Loon was THE 80s ski lodge, THE 80s mountain of 80s mountains. If you lived in Boston and you were going skiing, you were going to Loon.
Not Sunday River. Not Killington. No, Loon mtn.  I was there, it was a bastion of multi-colored, sleeveless vests, crimped hair, and lawlessness.
Picture this: Weekend warriors bombing down I-93 in their IROC-Z, arguing their side of The Great Debate (Roth vs. Hagar).  Skin tight neon onesies worn over black spandex, the quintessential 80s attire.  Skiers, enjoying a cold Stroh's at apres ski, talking about the new North Peak triple chairlift.
Everything was Yo Soy Fiesta in the 80s.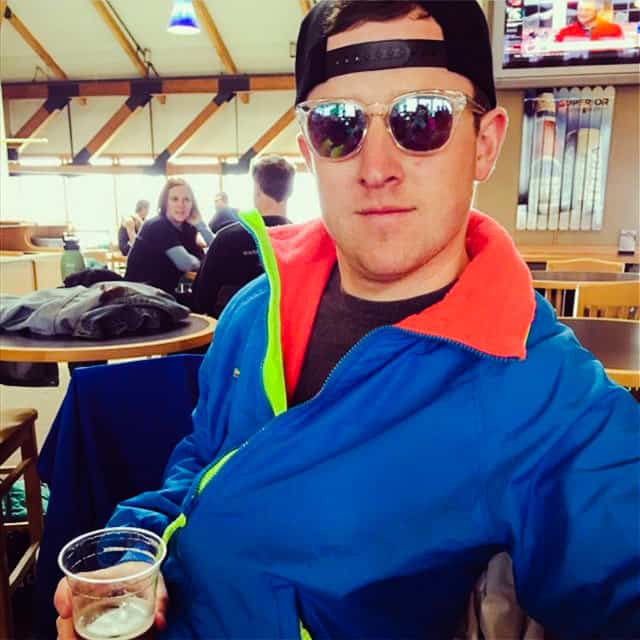 What made Loon Mountain so popular (in the 80s)?
Loon Mtn is the White Mountains most accessible set of slopes, with Lincoln, NH being right off of I-93, and the mountain a few miles off of the exit.  Just a couple of hours from Boston, it is estimated that Loon serves the most skiers in the state.
Access to Loon was dependable in a way that other mountains just couldn't offer.  Everyone and their brother has a story about breaking down on some windy 45 minute access road mid-blizzard (note: the blizzard of '78 was NOT in the 80s).
And unless you were Zack Morris, you didn't have a cellphone to call for help. The predictability of getting to Loon in your Camaro was more of a sure thing.
When did Loon host their first 80s day?
A decade ago, as 2018 was the 10th Annual 80s Day at Loon Mountain.  Fast Times, has danced and rocked 8 of them.  From 80s trivia to aerobics, different events have played out over the weekend.
80s ski fashion: what you should (and shouldn't) wear to 80s day
The number one thing to remember is that gaudy is good.  Think neon.  A fair share of neon.  Copious amounts of neon. All the neon!
So much so that it looks like a neon bomb went off in Manchester, NH and followed you up 93 North.
However, please note that Frank argues that neon was really early 90s fashion.
Nevertheless, the 80s were about excess, so flash your fluorescence in the Bunyan Room!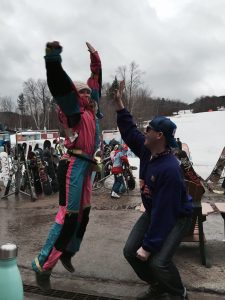 Other things to wear at 80s day
Stonewashed or acid-washed jeans
Surfstyle windbreakers
Fingerless gloves
Leg warmers
Leather jackets with tassels
Zubaz pants
Turn your 80s day outfit up to 11 by costume-ing up!
Picking out an 80s costume is a tough endeavor.  I mean sure, you can be a faceless member of the Bud Light Concert tent, or, you can strap on some zebra print spandex and throw Diamond Dave jump kicks …
PANAMA!
Remember, the stage harness swing is totally rad but against Bud Light Concert tent rules.
Things not to wear at 80s day
Bell-bottoms
Flannel
Yoga pants
As Droz said in PCU, What, you're wearing the shirt of the band you're going to see? Don't be that guy.
Ever notice that Joe Elliot constantly disregards Droz's instructions in Def Leppard videos? It isn't even subtle - check out Pour Some Sugar On Me and Armageddon It.
Actually, does being in the band count?!
Think about that the next time you are asking yourself what to wear to a Def Leppard concert.
What to do for 80s hair?
Don't waste your time with scrunchies and headbands … Go big hair or go home.
Ladies, if you want that Kim Cattrall 1980s look, you need to tease it, crimp it, and/or feather it.
Men, your 80s hairdo could be a mullet or a mohawk. Or, go all Flock of Seagulls.
Orrrrr, you could exude unrivaled majesty by rocking a Tom Selleck power 'stache … your choice.
It should be everyone's goal to stock up on excessive amounts of AquaNet hairspray and L.A. Looks gel.  While you're at it, being a bottle blonde can't urt - the more you look like Jon Bon Jovi (well, 80s JBJ) the better.
Check out his majestic feathered hair in the Livin' On A Prayer video!
Again, remember that while the stage harness swing is totally rad, it is against Bud Light Concert tent policy. Same with sitting on shoulders.
So where is this bitchin' apres ski party after all?
The Bud Light concert tent is located at the base of Seven Brothers, just outside of the Paul Bunyan Room (the best place to get a beer at Loon Mtn) at the address below.

Loon Mountain Ski Resort
60 Loon Mountain Road
Lincoln, NH 03251
---
About Fast Times Boston
They really are the complete 80s experience: big hair, keytars, neon outfits, shredding solos, and, they play your favorite 80s hits.  All of them.
Journey, Duran Duran, Whitesnake, Debbie Gibson … all of them.
They even feature Glen Plake on keytar!
Ok, that's not exactly true.  But, the mohawk is totally bitchin'
What is the best (and safest) option for Lincoln / Woodstock, NH transportation?
The best way to get around Lincoln, NH on 80s Day is The Shuttle Connection.
For $5/person, they will take you to the mountain, Woodstock Station, and all of the other hot spots in between. However, on 80s day, you will want to call (603) 745-3140 early as they book up, sometimes an hour or more out.
If you are an Uber person, be warned, they are in quite limited supply.
---
2018 80s Day recap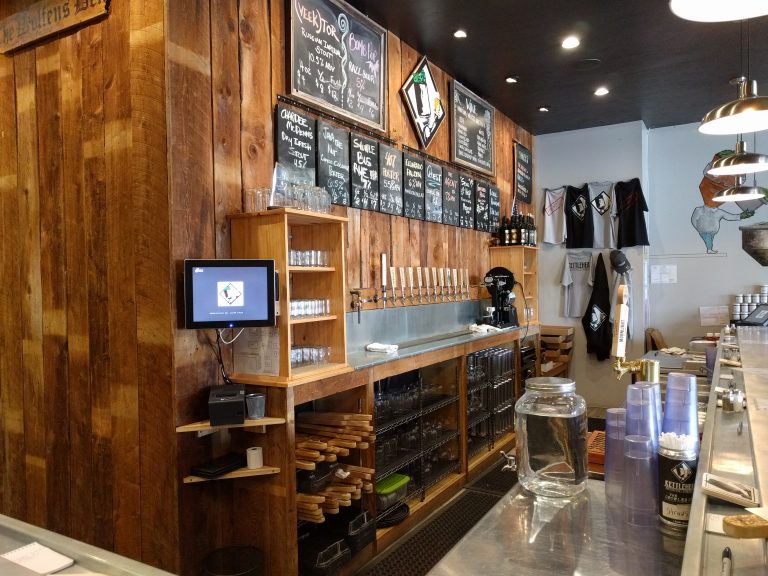 Notes from the weekend:
Friday
Hair Nation Game riding up - introduced Noles to it.
Stop at Kettlehead, a new(ish) brewery in the Lakes Region (Tilton, NH). Grabbed some flights - Eldorado Falcons, Quest IPAs, Bomb Pops, and The Agent.  Strong start to the weekend.
"Hey, can I get the Brown Pow?  We are out.  Can I also have the Brown Pow!?  No … we are out.  Oh … yeah."
Hustle to Deer Park Ski condo
Go over Brooklyn twice, consider ourselves "ready"
Shuttle Connection over to the Bunyan Room
Noles' jumpkick
Karaoke didn't happen.  Seemed like it could have been a rad event.  Don't know what happened.
Impromptu Lincoln/Woodstock pub crawl: Brittany's, Gordi's, Woodstock Inn and Brewery
Saturday
Deep thought by Pants: Each Saturday morning of each epic year a spirited debate rages amongst us - to ski or not to ski? The debate is typically settled within seconds as PBR tall-boys enter our grips and a swift 'piss off' is bestowed upon the idea of a half ski day
2018 80s Day Costume: The Beastie Boys
Noles slept til 1230.  He even slept through "80s Day Wake Up"
Skipped Shuttle connection (sadly) - they were backed up
Got to the standing slush pool (Bud Light concert tent) during Fast Times soundcheck
Fast Times: New singer/lead guitar player Juli Morgan enabled a slightly different setlist than years past.  She lit up the tent with Katrina and the Waves "Walking on Sunshine"
Croakies rep took some dope photos
Got on stage halfway through set 2 for Brooklyn
Hit Brittany's (again) on the way back to the Deer Park Ski condo
Grabbed 30s that never got opened (common theme)
Watched Hot Tub Time Machine & Sex Drive : Clark Duke absolutely slays in Sex Drive.
Note to self, start a doubleheader by following up Excellent Adventure with Bogus Journey
Sunday
Had to reacquire the Diamond Dave jumpkick 80s outfit at Flapjacks.  It was loaned out on Friday night.
Peg's was closed.  How dare they!
Stopped at the Central Ale House in Manchester, NH. Fun fact: you can pour your own beer. Slick.
Highlights
The Woodstock Station guitar debate: The Gravel Project was playing.  Noles said lead guitar didn't "own it" enough.  Someone had himself a few ice cold cruisers.
After 4 years of pretty much the same setlist, some new material would be nice.  I use "new" loosely as Fast Times is an 80s cover band after all.  But maybe a song from the Rocky IV or even Iron Eagle soundtrack wouldn't hurt.  They do cover a tune from Eddie and the Cruisers, John Cafferty and the Beaver Brown Band's "On the Dark Side".
Clutch move of the weekend:
Noles' Diamond Dave jumpkick, replete with shimmy and point. Even more so than rocking "No Sleep Till Brooklyn" with Fast Times.
Photos from 80s weekend 2018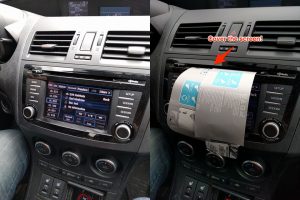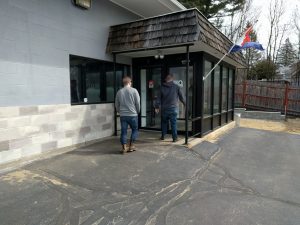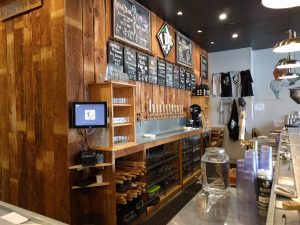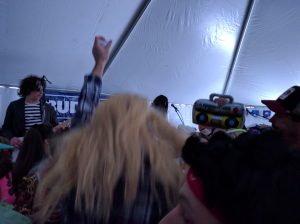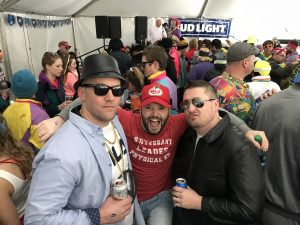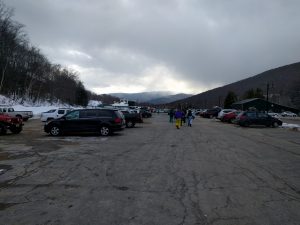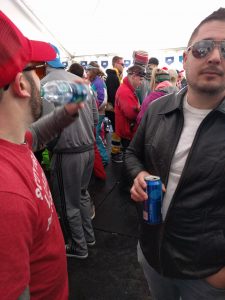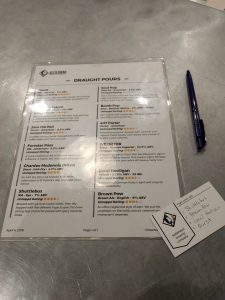 ---
2017 80s Day recap
Notes from the weekend:
Friday
Stop at Winnipesaukee to check in on some stuff before heading up.
Trivia @ Bunyan Room (did alright, not as good as we hoped).
Keith Roth hosting on Hair Nation for the 80s Hair Nation Game.
Saturday
2017 80s Day Costume: Devo
Morning ritual of Bill and Ted's Excellent Adventure
"80s Weekend Morning Wake Up" for Huff (sleeping in).  Beer and loud glam metal bands left at the door, both for consumption.
Cranked Appetite for Destruction (Guns N' Roses) & Screw It! (Danger Danger) while making our costumes
I led a spirited discussion about how kickass Andy Timmons was, regardless of the artistic "merit" of Danger Danger. They did have bitchin' album covers though.
Shuttle connection
Bumped into people that we saw in 2016
Seeing Cobra Kai's Johnny Lawrence!
Got 2nd place at the costume contest, losing to 80s Madonna (she claims to be a different decade Madonna every year. Well done. Also, won a pair of (Smith?!) goggles
Enzos pizza (Lincoln, NH) for dinner: decent chicken bacon ranch pizza.
Slopeside Retreat for the NCAA tourney: Oregon vs UNC
Sunday
Peg's (remember - cash only)
Highlights
The Guns'n'Roses "Beer and a shot of (hair) metal" wake up was first introduced.
Clutch move of the weekend: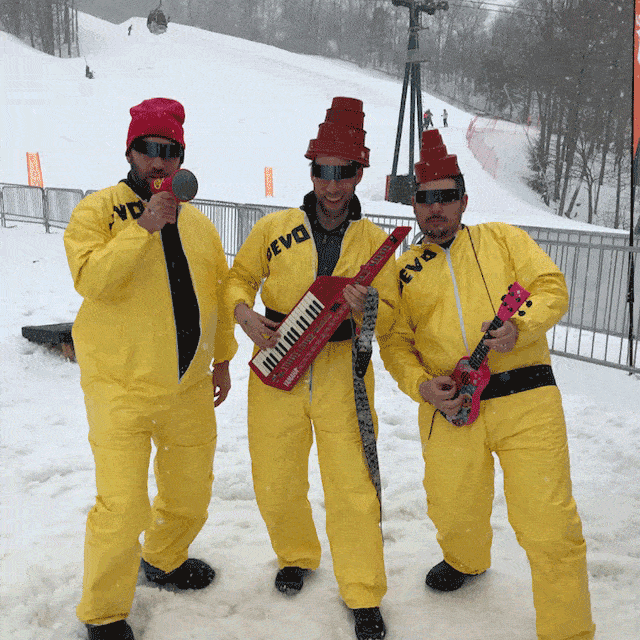 Being Devo
Wearing bright yellow Dupont Tychem Coveralls really stood out.  Nailed it as Devo.  In fact, with the right mask/helmet, we could have doubled as Marty McFly (Darth Vader, from the planet Vulcan) in Back to the Future.  Another strong costume idea.
Photos from 80s Weekend 2017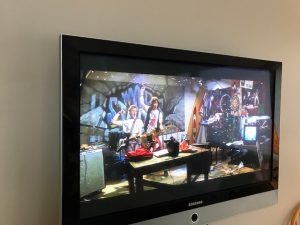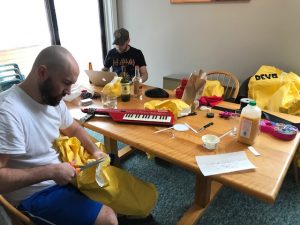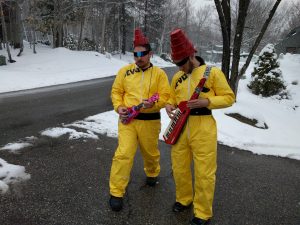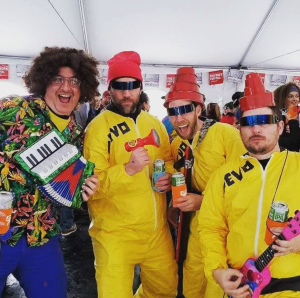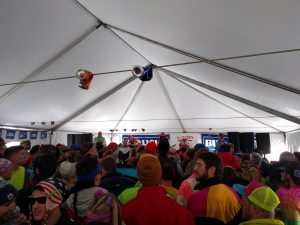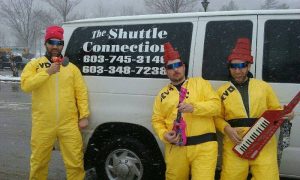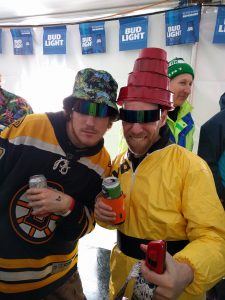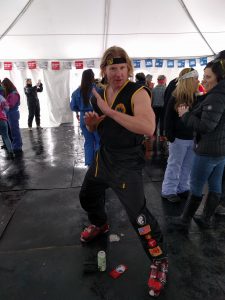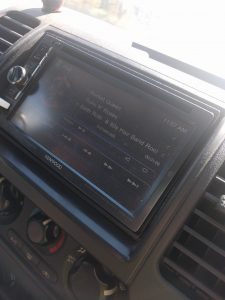 ---
2016 80s Day recap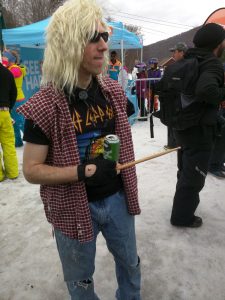 Deep thought by Pants: This year included one of the biggest changes in modern debauchery since the advent of a 2 story beer bong (pic below). Previous years included a packed house inside the Bunyan room with a beer-in-hand wait time of approx 9.3 minutes, which is nearly triple the allotted time for livers to keep up the pace of our 80's booze-fueled predecessors. Luckily for us, they made the move to the Bud Light Concert Tent outside which allowed for an increase is elbow room, double-fistedness and less ball-sweat. Plus, there were increased site-lines to spandex clad royal babes … just don't forget the aviators for decreased creepability.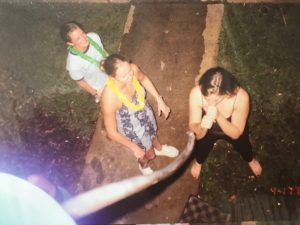 Double deep thought by Fizz: I'm actually impressed that Maurice the Pants Man made a two story beer bong in college, he must have watched a ton of Home Improvement as a kid.
The real question is, did Sir Pants think of this plan whilst gassing down beers and checking out maidens with the other knights on the deck of the Deck House, or, was he inspired mid-aisle in the plumbing department in Home Depot or Lowes.
Like, hey, nice clear plastic tubing, I wonder if … BAM!
Squire, fetch me clamps and a funnel, we need to knockout a beer bong!
Notes from the weekend:
Friday
Started at Woodstock, then Pants and Huff showed.
Back to the Deer Park Ski condo for cocktails
We hit up the Common Man for dinner, old school atmosphere
Then over to the Slopeside Retreat for more cocktails
Saturday
2016 80s Day Costume: Axl, Slash, Rik Allen (one arm drummer from Def Leppard), and Jem
Morning ritual of watching Bill and Ted's Excellent Adventure
Huff owned it as Rick Allen.  Committed to the one arm approach all day.  ALL DAY!  Beer and drumstick in the same hand.  Def Leppard Pyromania shirt. Glorious.  He did The Thunder God proud.
Rode The Shuttle Connection to Loon
Grabbed 30s of beer that never got opened from Price Chopper
Back to Slopeside Retreat
Sunday
Highlights
"Pants, let's schedule a showing during 80s weekend to see this church.  We could finally own a brewery!  Better yet, the church that Slash rips the November Rain solo outside of." - in regard to a church for sale near the Woodstock Brewery (it's still for sale).
Some kid was Woody from Toy Story. Definitively 90s.
Clutch move of the weekend:
Finding out about The Shuttle Connection.  Nothing better than being safe during an all day 80s party.
Who are we kidding, clutch move of the weekend goes to Huff. You try keeping your arm inside your shirt whilst holding a drumstick and slamming bud heavy after bud heavy (err, Goose Island?!) all day. Here is another rad photo of him.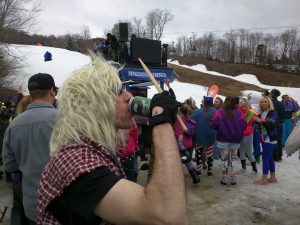 Photos from 80s Weekend 2016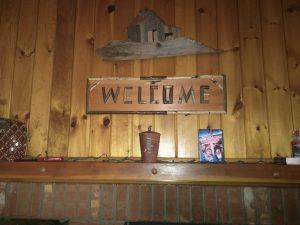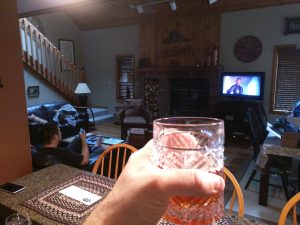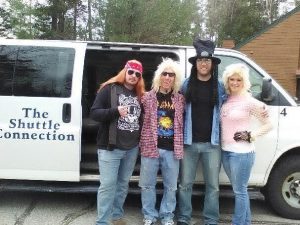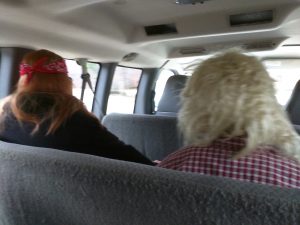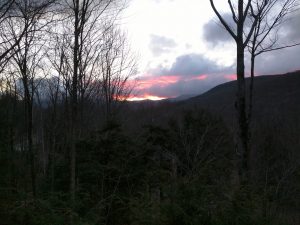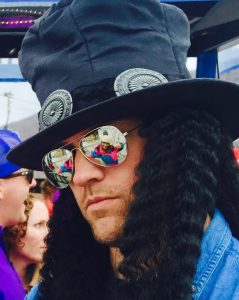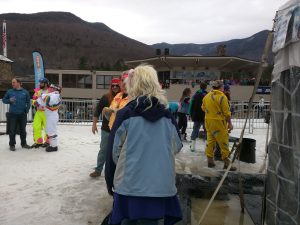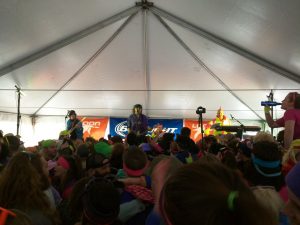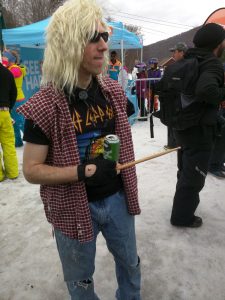 ---
2015 80s Day recap
Notes from the weekend: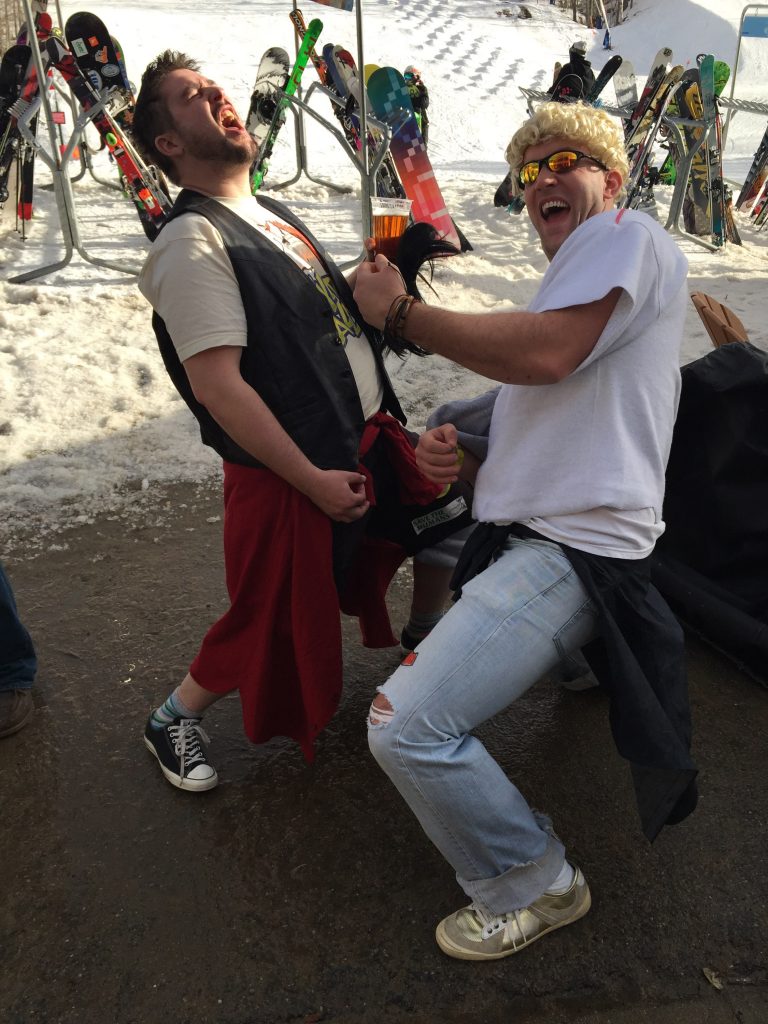 Friday
80s hair nation game on way up with Frank and Pants.  Pants was psyched!  It was as if the 80s Hair Nation game was with him all along.
(O)G's Slopeside Retreat: Place is OG Loon Mtn. - Like single digit mug in the Bunyan Room mug club
Dinner @ Woodstock Brewery and Inn - gassed down plenty of frosty goggles and pig's ears
Back to Slopeside Retreat for hilarity
Played Celebrity: Apparently Sanka Coffie (Cool Runnings) and Chuck Todd (who knows, who cares) are not allowed to be played.  House rules.
Saturday
2015 80s Day Costume: Bill and Ted
Wake.  Watch Bill and Ted's Excellent Adventure (first annual). Crush a few beers whilst everyone skies.
Head to Bunyan room just before noon.  More beers.  More laughs.  Most triumphant [tossed air guitars].
Costume content: Hulk Hogan, Michael Jackson, and then Bill and Ted (us) in 3rd place
Maverick/Goose level high five to Hogan for knocking it out of the park.
Back to (O)G's Slopeside Retreat: Almost everyone is out cold.  Strong day leads to weak night.  We remember this for the next 80s day.
Sunday
Sadly, we don't do Peg's (Fadden's Maple Syrup is delicious).
Watched the exhilarating CBS special on Bernie Coffindaffer and his Crosses Across America project.  Pretty interesting stuff … would have turned it into a drinking game if we weren't leaving.
Said goodbye to (O)G's Slopeside Retreat. Until next year.
Highlights
The first Loon 80s Day we attended.
Watching Bill and Ted's Excellent Adventure becomes mandatory in the years that follow.
Introduced Pants to the 80s Hair Nation Game
Hulk Hogan (guy was scrumtrulecent)
Having the Eye of the Tiger!
Clutch move of the weekend: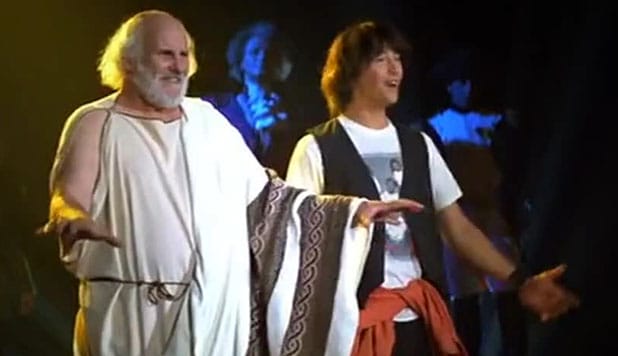 Photos from 80s Weekend 2015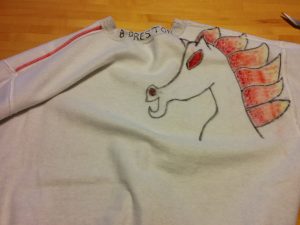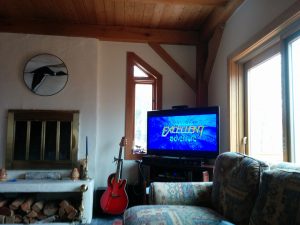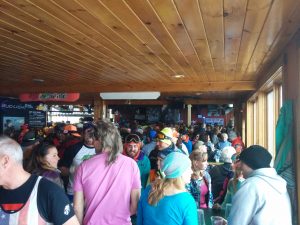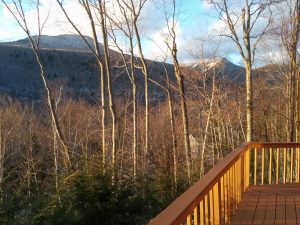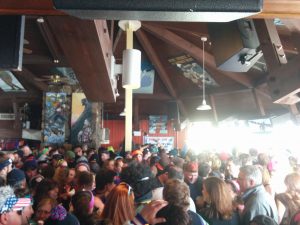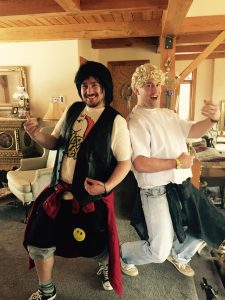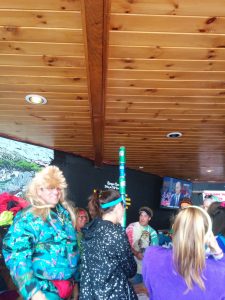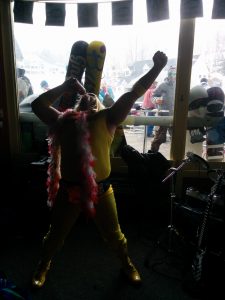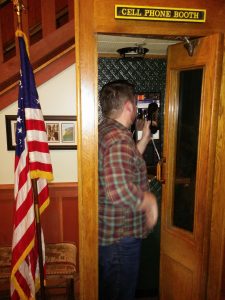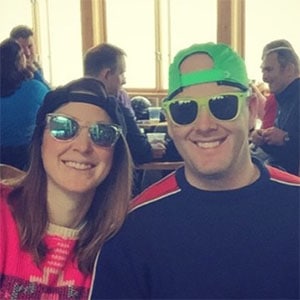 Exactly what are the rules of The Hair Nation Game?
The Hair Nation game is based off of the SiriusXM station of the same name.  The goal is to guess the band of the song being played before your opponent.  It's as simple as that.
Recently, we have found that the game has become consistently too even - so we have instituted advanced rules to create more drama and higher point swings.
Note: Satellite radio sure beats having your entire winamp playlist get hosed when you add a song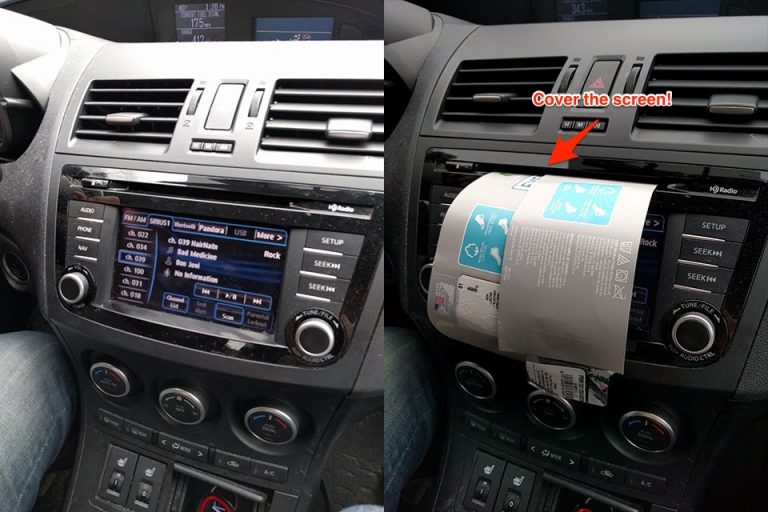 What you need to play (two things)
Sirius XM (obviously)
Something to block the ID tag of the song that displays the Artist, Song, and Album.  (or the will not to look)
Opponents are optional, but the more the merrier.
Rules:
Basic: first to call out the band gets a point.  unlimited guesses.
Advanced: three guesses.  5 pts for correct on the first guess, 2 pts for second guess, 1 pt for third.
Variant(s): Point for song/album.
80s Day Bonus:  everyone owes you a Frosty Goggle @ Woodstock if Skid Row's "I Remember You" comes on and you rip it in full falsetto.
Oh, and be warned, the DJ will sometimes ruin the game - so make sure you tweet out to the them to stop announcing the song/band.
let us know how your game is going by using the hashtag: #HairNationGame
Journal entry from I-93 on the way to 2015 80s Day:
Currently, we are in the throes of the Hair Nation game as Pants, Frank and I are bombing down I-93 en route to (O)G's Slopeside Retreat. Pants jumped ahead to start with Ozzy/Lita and the Crue. After a few ties, I've put together a streak of David Lee Roth, Whitesnake, and Kiss that features me in the lead. Frank and Boozekarl amongst others have vied for the title but Pants has proven my greatest challenge yet.
Also, if Frank says he would have gotten a difficult one, it's Jovi. Kid only knows Jovi.
Update: Pants just tied it with Kix! Most non-triumphant!
---
That wraps the recaps. Until next year …
Be Excellent To Each Other!
2019 80s Day
Are you planning on going to 80s Day in 2019?